EEP
Exercise and Evaluation Program
All Hazard Training offers performance-based exercise programs that follow the guidance of and are in compliance with The Homeland Security Exercise and Evaluation Program (HSEEP), as maintained by the Federal Emergency Management Agency's National Preparedness Directorate, Department of Homeland Security. The HSEEP constitutes a national standard for all exercises. Through exercises, the National Exercise Program enables organizations to achieve objective assessments of their capabilities so that strengths and areas for improvement are identified, corrected, and shared as appropriate prior to a real incident. Our compliance with this standard assures learning via an accepted methodology and terminology for exercise design, development, conduct, evaluation, and improvement planning.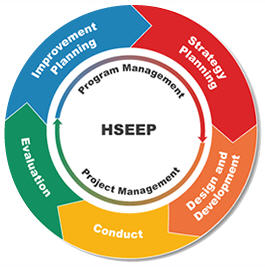 Our Master Exercise Practitioners, certified and credentialed by DHS/FEMA through the Master Exercise Practitioner Program (MEPP), form the basis of the All Hazard Training Exercise and Evaluation teams. Our MEPP-certified team members have completed prescribed training and demonstrated, through hands-on application, a high degree of professionalism, capability and familiarity with all aspects of emergency management exercises.

Our purpose in use of the Homeland Security Exercise and Evaluation Program (HSEEP) is to provide exercise policy and program guidance to you, our clients, which follows a national standard for exercises. We follow HSEEP standardized terminology and processes -- applicable regardless of the nature and composition of your agency or organization -- to plan, conduct, and evaluate preparedness exercises.

Another benefit to you by our use of HSEEP is that it reflects lessons learned and best practices, both from our experienced Exercise Practitioners and from your existing exercise programs. As we develop and execute your exercise program, our Exercise Practitioners integrate the details into the full spectrum of hazardous scenarios and incidents (e.g., natural disasters, terrorism, technological disasters) for maximum skill transferability and absorption by your personnel.

Exercises allow personnel, from first responders to senior officials, to validate training and practice strategic and tactical prevention, protection, response, and recovery capabilities in a risk-reduced environment. Exercises are also the primary tool for assessing preparedness and identifying areas for improvement, while demonstrating community resolve to prepare for major incidents. We conduct and evaluate exercises to help your organization to gain an objective assessment of their capabilities so that they address gaps, deficiencies, and vulnerabilities prior to a real incident.
Well-designed and well-executed exercises are the most effective means of:
assessing and validating policies, plans, procedures, training, equipment, assumptions, and interagency agreements;
clarifying roles and responsibilities;
improving interagency coordination and communications;
identifying gaps in resources;
measuring performance; and
identifying opportunities for improvement.
Our exercises reflect lessons learned and best practices from existing exercise programs and can be adapted to the full spectrum of hazardous scenarios and incidents (e.g., natural disasters, terrorism, technological disasters). In addition, our exercises reference volumes integrate language and concepts from the National Response Framework (NRF), the National Incident Management System (NIMS), the National Preparedness Goal, the Universal Task List (UTL), the Target Capabilities List (TCL), existing exercise programs, and prevention and response protocols from all levels of government. In the spirit of NIMS, all efforts are made to ensure consistent use of the terminology and processes described in HSEEP guidelines.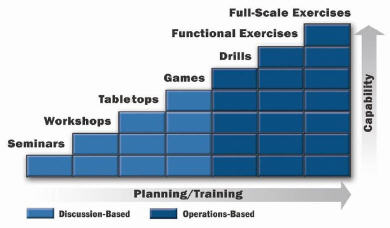 - Multi-Year Training & Exercise Planning -