Training Catalogue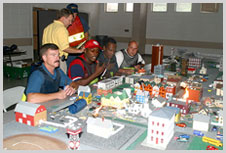 All of our courses and training meet or exceed nationally recognized industry standards and standards established by Incident Management System Division/National Incident Management System (NIMS) Integration Center for courses as taught by the Department of Homeland Security (DHS). All Applicable courses meet the content and objectives outlined in the National Standard Curriculum Training Development Guidance, required by the NIMS Integration Center and the National Incident Management Training Program, September 2011.
Note: For All-Hazards ICS Position Specific Courses, all of our lead instructors are pre-qualified by their State Training Officers (STO's) and are on the list of lead instructors authorized by the FEMA National Emergency Training Center, Emergency Management Institute for Position Specific courses.
The first number for each course in the catalogue is the AHT course identifiers.
All-Hazards ICS Position Specific Courses - Type-3
Exercise and Evaluation Programs
All-Hazards ICS Position Specific Courses - Type-1 & 2
ICS & Incident Management Series
Readiness Series
Special Operations Courses